Activations
are special events, workshops, panels, exhibitions, shows for IIIPoints music + art + tech festival, 2016, year IV at MANA Wynwood. The Activations Program has over 20 events before and after the festival weekend - this year featuring its first Art Auction (curated by MK), first Music Video Film Festival (Nuwave Film Festival) at O Cinema Wynwood, our annual yoga Wake Bake Revive at Wynwood Walls, mokibaby's Booty Bass Bounce House Party at Kryogenifix Lab, Band Boot Camp at Wynwood yard, collaborations with Gramps, a VR (Virtual Reality) Lounge at 01 (a school for coding, hacking and other technology), coding classes, and more. Some flyers from this year below, Graphics by Cristina Gonzalez
First Annual Art Auction
curated by Maggie Knox. All works on view were created by local Miami artists offered at a lower price to support local organizations @_SunsetAtNoon, Sage the World, and the Dream Defenders. It ran from Friday October 7 - Tuesday October 11th, 2121 NW 2nd Avenue, Wynwood, Miami, Florida.
Artists on view: Marcus Blake, Jason Cole, Ernesto Kunde, Michael Clifford, Gustavo Oviedo, Lauren Shapiro, Karin Garcia, Justin Wood, Aileen Quintana, Eurydice, Nicole Salcedo, Sarah Mk Moody, Emma Del Ray, Deming King Harriman, Jamilah Sabur, Gesi Schilling, Bhakti Baxter, Jenny Perez, Nicole Doran, Jose Felix Perez, Nice N Easy, Diego Guzman, Kristin Ross, Guillermo Ruballo, Elizabeth Newberry, Ernesto Vargas, Veronica Gessa, Isadora Shamash, Lilibon Swimwear, ABA Jewels, Rebecca Limchoy-Lee BLAVK Jewelry, Dr RedFox clothing, Sage Sisters ISOTROPIC sculptures
Auction Installation and Activation color photographs by Ariella Mostkoff
ISOTROPIC
ISOTROPIC was an installation and endurance performance piece by Maggie Knox and the Sage Sisters for IIIPoints.
ISOTROPIC installation was made of 333 quartz crystal points wrapped with love by the women of Maggie Knox:
Sarah MK Moody, Nicole Salcedo, Aja Butler-Burns (ABA Jewelry), Rebecca Limchoy-Lee (BLAVK Jewelry), Isadora Shamash, Sarah Klein, Dhavi Gotti, Cristina Gonzalez, Monica Uszerowicz, Nicole Doran, Ciara Taylor, Tara Long (and POORGRRRL friends from this years' IIIPoints performance, thank you!)
The crystals were purchased at Art By God in Wynwood and bathed for 4 days in a pink Himalayan salt bath, then laid in the Earth under leaves in the shape of CLAIRE*, they were bathed in sunlight and in moonlight and on the new moon of September 30, the women noted above and the IIIPoints team set intentions on the crystals and bundles for a successful festival and good vibes for all involved. All of the crystals were wrapped on the new moon then installed into 33 'galaxies' of lucite, aluminum mounted on plexi-glass and 5 on walnut wood.
The crystals were hung for 5 days at MANA for IIIPoints, some leaving their place in the galaxy to depart with someone who really needed a friend. They were then dispersed among the women noted above and IIIPoints team for forever love imbued with the energy, high vibrations and clarity shared at this years festival. Though small, those crystals are mighty. And combined with the burning of copal, sage, palo santo and nag champa incense for the weekend, the zing of each one of those 333 is electric.
Process Shots below (with love from our iPhones and Ernesto Vargas):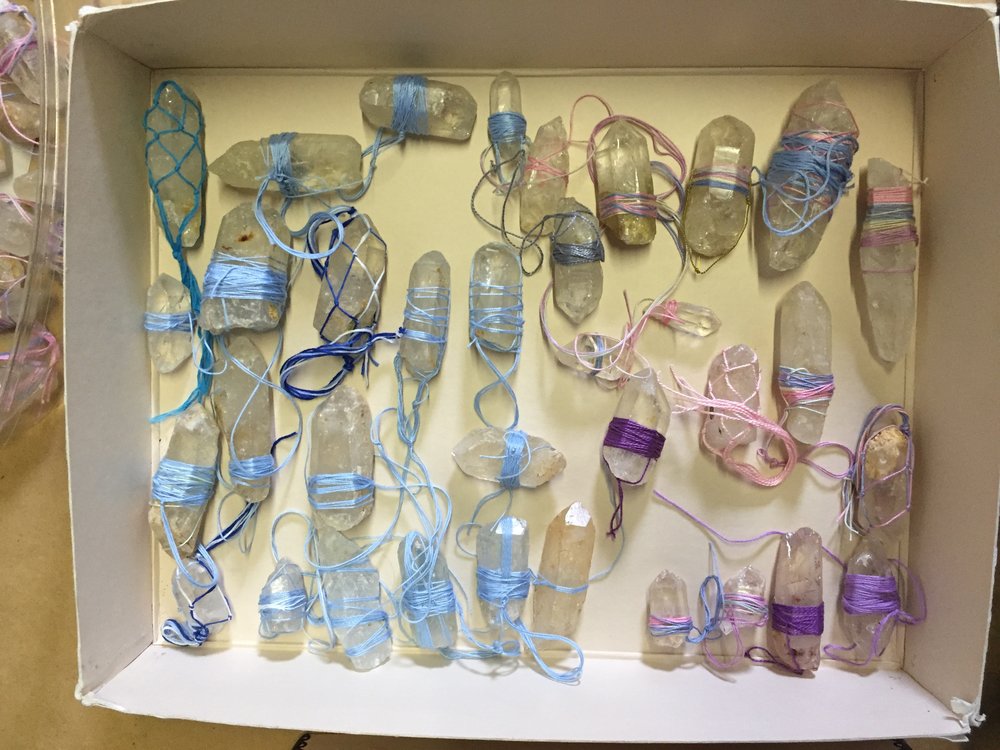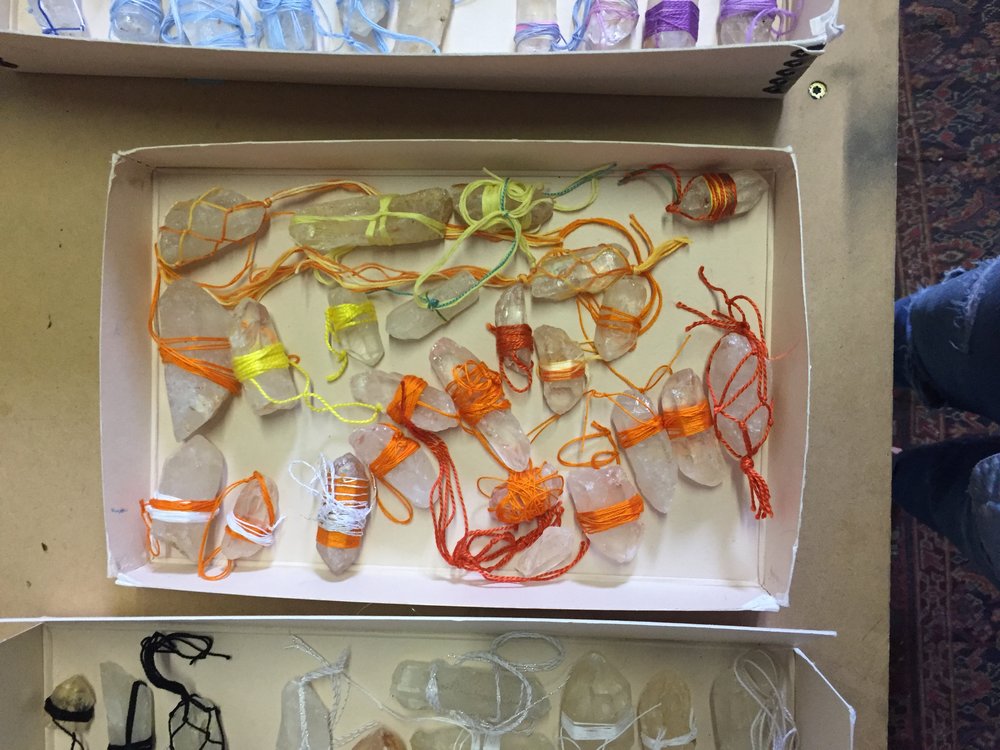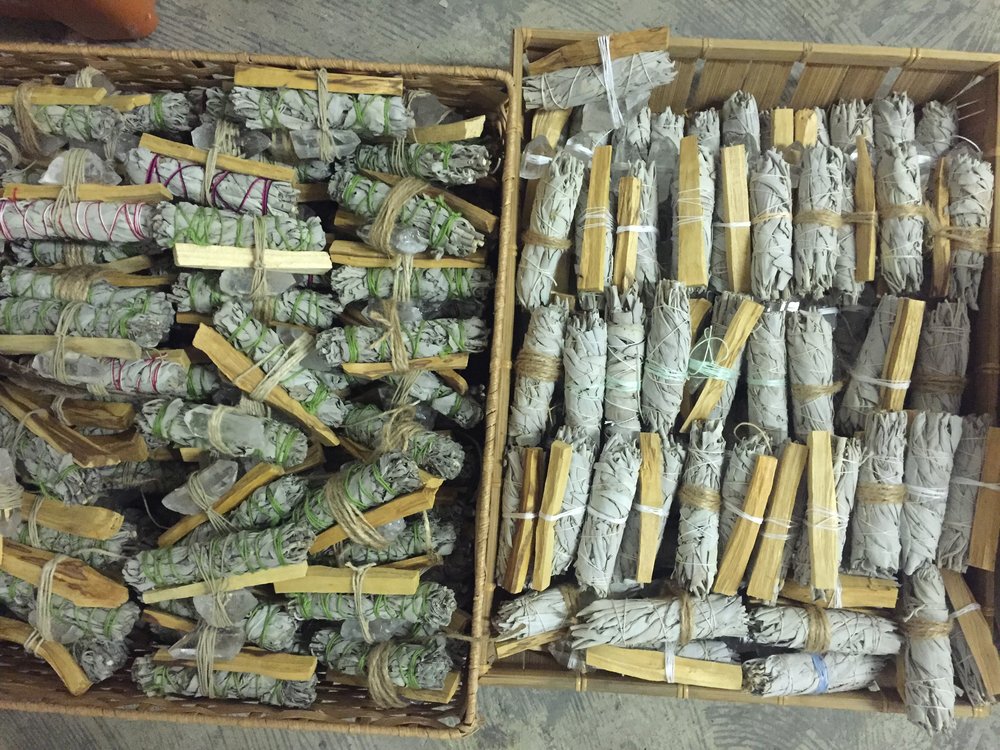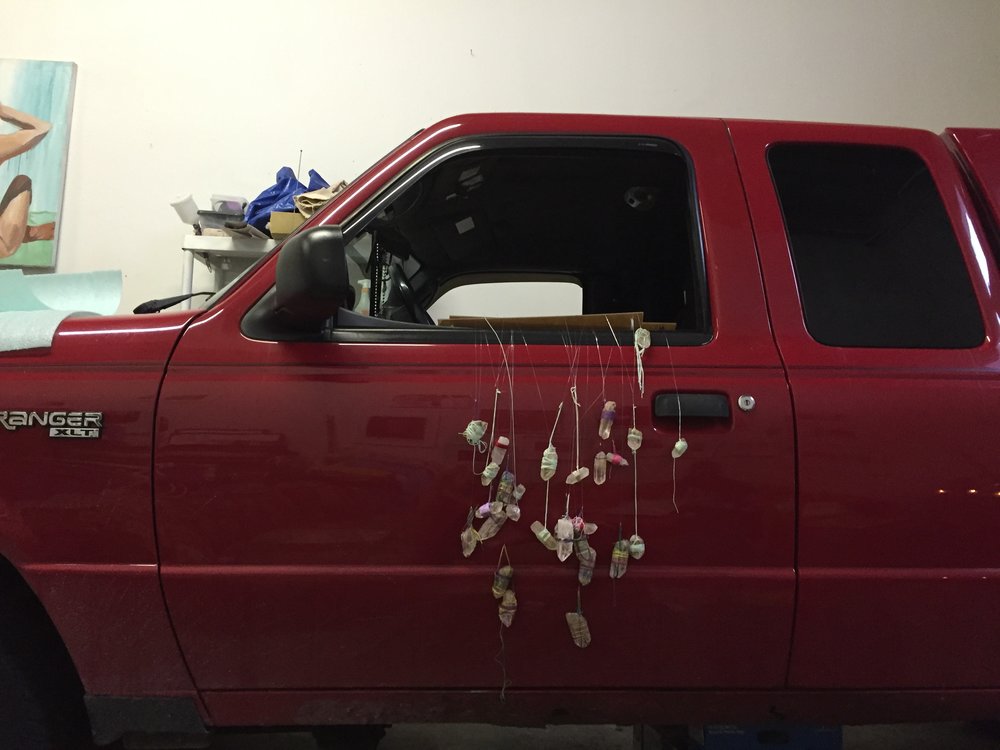 Thank you for sharing your energy, Miami, IIIPoints and Maggie Knox are riding on it.
-----
Maggie Knox acts as the Activations Director for IIIPoints and curated an Art Auction and gift shop with support from Miami Spaces in a gorgeous storefront gallery in Wynwood, 2121 NW 2nd Avenue Suite 105, Miami 33127.
Sage the World is a project by Isadora Shamash and Maggie Knox. Our intention is to share good energy and kindness with others by assisting in the removal of impurities from the air and negative energy from the space around. We shared energy and space with IIIPoints this year by smudging the grounds and festival goers for the week leading up to the festival and on grounds for the weekend.
* for more information on CLAIRE (The Power of Love) Project please inquire on our About MK page.
and Special Thanks to Sage the World, Isadora Shamash, Nicole Salcedo, Ciara Taylor, The Dream Defenders, Sarah Klein, Elizabeth Newberry, Ashley Varela, Tara Elizabeth Long, Andrew Byrd, Dhavi Giotti, Aja Butler-Burns, Rebecca Limchoy-Lee, Osom, Juliana*, the IIIPoints team (shout out Cristina Gonzalez, Lyly Villanueva, David Sinopoli, Erica Freshman, Ross Labrie, Ashley Solage, Courtney Smith, Michelle Granado, Aileen Quitana, Veronica Gessa, Sam Glennon, Santi Vidal, Amir Ben -Zion), Dave Deville and Miami Sign Shop, Gustavo Costa and Miami Spaces, and all of the Artists who trusted me to show their work in this auction.